Welcome to our roving BBQ
Getting started with your NOMAD Grill
Charcoal Lighting
— Direct Fire —
Two-Zone Cooking
— Indirect Fire —
Reverse Sear
— Indirect Fire —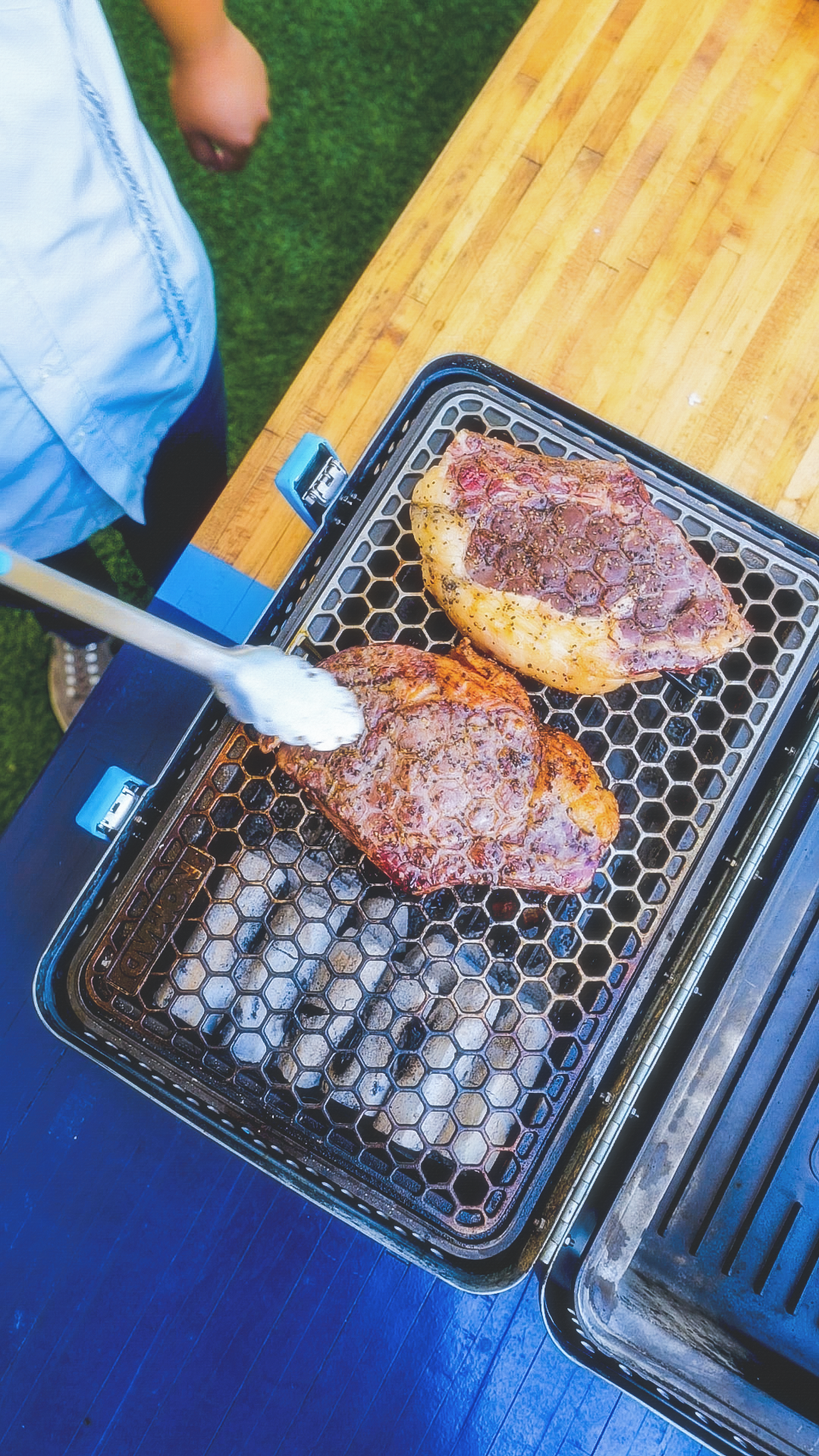 Barbecue Basecamp
— Welcome To Nomad —
Pick a safe place to grill

Place your NOMAD on a secure/solid, non-combustible surface (on the ground, a stable table, or a metal stand). Never place your grill directly on a plastic table, or any composite surface, as they could melt or catch fire.

Use the Proper amount of charcoal

For best results, we recommend using our NOMAD Fire (100% All-Natural Charcoal briquettes). Load 9-12 bricks of NOMAD Fire for ripping hot searing temps with the hood open. Alternatively, for smoking with the hood closed, load 6-9 bricks of NOMAD Fire for a typical two-zone, offset cook. Never overload your cookboxes

Light it right and let it ignite

Use a chimney starter with NOMAD All-Natural Tumbleweed in the base to help quickly light your coals. Wait until charcoal is burning all the way through and covered in ash (usually 30+ minutes). Use tongs to safely load your charcoal across the fins of your cookbox for maximum airflow.

Part Grill, Part Smoker

When grilling, lift the hood and lay the grill opened flat for ripping hot searing temps. For smoking with a single grate, close the hood for low & slow temperature control. And when cooking for a larger crew, you can utilize both sides (with optional second grate).

Clean & Care

Cleaning your NOMAD is easy. Let it fully cool down and then remove the ash. As needed, clean your grill with mild soap and warm water. Never use any harsh chemical cleaners as it may damage the anodized finish. Be sure to completely dry your grill and grates before storage so it's ready for your next adventure. Visit our FAQs page for more info + care tips.
Follow these tips for best results and to ensure your grill lasts a lifetime.